Address: Maria Auxiliatrix, North Circular Road, Limerick.
Tel: (061) 455 442
Email: info@salesianps.com
Principal: principal@salesianps.com
Chairperson of Board of Management Mr Neill Ó Conaill 061-453926
Four Sisters, from the Salesian Province in England, came to Ireland in 1920, on the invitation of the local Bishop.  Their first base was in Thomas St., Limerick.  Evening classes for girls were initially offered and a private day school was opened in 1921.  The school was transferred to the Fernbank site in 1925, one year before the beginning of compulsory school attendance in Ireland.
The Primary School continues to offer a quality education to girls of the Parish and from further afield.  The school community is still inspired by the service commitment of the founders of the Salesian Order, Don Bosco and Mary Mazzarello.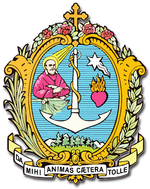 The school's website is available here: 
http://salesianps.com/index.htm
And there's more to be read from here:
http://salesianps.scoilnet.ie/blog/