Ministers to the Housebound
Some of our Extraordinary Ministers of the Eucharist in the parish are also available to take Holy Communion to parishioners, who are unable to leave their homes for Mass in the Parish Church.
These Ministers go out from the Church after the 10:00 a.m. and 11:30 a.m. Masses on Sundays and Holydays of Obligation.  They visit members of the community, who have asked them to call because they are housebound.
Please note that the service is provided only on request.
If you are in this situation, whether due to a short-term illness or a longer-term infirmity and you would like to have Holy Communion brought to you, in your home, please send us word through the Sacristy or through one of our Priests.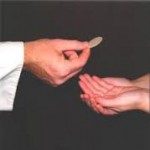 Don't forget to say which time, after 10:00 Mass or after the 11:30, would suit you best.  We are generally able to ensure that all visits have taken place within an hour or so of the end of Mass.
This Ministry to the Housebound was established in Our Lady of the Rosary Parish in 1996 and we are fortunate to have a group continuing to provide service since then.
Ministers meet twice each year, in March and September, in the Parish Centre.  Currently, the Group Organiser is Gerard Enright.