The Family Fun Day  took place on Sunday 15th May after the Family Mass at 11.30am.  (in the church grounds and JFK school)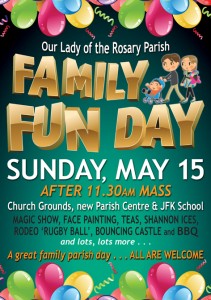 I think all will agree the Family Fun Day was a great success. The sun shone and the burgers and ice creams went down a treat.
Many thanks to the hospitality team for the teas/coffee and cakes. Well done to all the voluntary groups who set up tables in the hall.
A big thank you to all who helped in many ways to make this day so successful,especially the PPC members who gave of their time to this project.