Christian Meditation is an alternative form of prayer which has been practised for centuries and which many find helpful in their daily lives and enriching of their spirituality.
We are often distracted from prayer by inner concerns and external noises?  Do we not struggle to create an atmosphere of silence and stillness, an opportunity for quiet contemplation?   Do we give ourselves the time and the space to reflect on our Christian Faith and to be open to the Holy Spirit?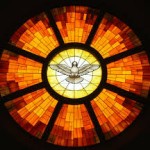 In Our Lady of the Rosary Parish, the Meditation Group currently meets on Mondays at 1:30 p.m. in the church.  New members are always welcome.
If you would like to join the group or simply to find out more about Christian Meditation, please contact Joan Mc Sweeney or just turn up at one of the Monday lunch-time sessions.