Extraordinary Ministers of the Eucharist
This is a voluntary group of parishioners, who assist the priest with the distribution of Holy Communion at Mass.  They are rostered for service at weekend Masses and on Holydays of Obligation.  Some assist at weekday Masses.
The word 'extraordinary' is used to signify that the role of these ministers in the distribution of the Eucharist to the congregation is 'extra' or 'in addition' to that of the 'ordinary' or 'usual' Minister, who is, of course, the Celebrant or Priest.
They are sometimes called Ministers of Holy Communion.
If you are a parishioner who would like to serve in this capacity, please make contact with us through the Sacristy or through one of our Priests.  New recruits are normally referred to the Limerick Diocesan Pastoral Centre, by the Parish Priest, for a short training course.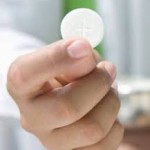 In our Church, as we try to ensure an efficient and orderly distribution of Holy Communion, we find that it works best when people approach the Altar and return to their seats by a 'one-way-system'.
Usually, we have three Ministers at the top of each of the pillar aisles, one in the centre, one left and one right.  People approach by the pillar aisles and then turn left or right to go back to their seats by the side walls or by the centre aisle.
This Ministry of Holy Communion was established in Our Lady of the Rosary Parish in 1992 and we are fortunate to have a group continuing to provide service since then.
Meetings are held twice each year, in March and September, in the Parish Centre.  Currently, the Group Organiser is Gerard Enright.